WORTH IT

OR

NOT

?
                                                           

WORTH IT!!!
                                                                         $$$$$ 5/5!
Why I chose Grammarly Premium:
 If you don't use it, you lose it!
With a grandmother that taught Junior High and High School English, one would think that I'd be a wizard with such a topic. I was! Then I became an employed adult, and writing became a tedious, work-related charting skill.
As we go through life, one of the things that can happen is that we lose some of the essential learning tools that we've tried so hard to achieve. Now you throw in emoticons, LOL acronyms, and lazy language skills, tend to lose the ability to write legibly.
For the last 25 years, my writing has consisted of medical shorthand, medical-legal documentation, and personal journaling. When I started with blogging, I noticed several issues that I was having with the correct form of writing. I would often get carried away with commas and other punctuation errors.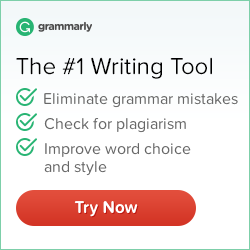 It was when I started to notice these errors that I chose Grammarly FREE. Punctuation corrections, common spelling mistakes, were part of the offering in Grammarly free. The free version was fantastic, but I wanted to take my writing skills to the next level.
Why I decided to upgrade to Grammarly Premium
As someone who has decided to become a blogger, and online educator, the lost art of writing proper English is essential to me. I often tend to write in the passive voice when doing the first draft of a post, Grammarly Has changed that. 
I also tend to end sentences with prepositions. Occasionally this would be fine; however, it has become a nasty habit of mine. This no longer happens.
I upgraded to Grammarly Premium because while the spell and punctuation checker improved my writing considerably, I felt I needed a little extra push, and boy, did I get more drive for content!
When becoming a blogger, writer online or offline, the plagiarism checker is essential. One does not want to get caught plagiarizing another's content! And it's easier to do than you think, even with an original idea! With so many people on the Web posting, the odds are high that it will happen.
The upgrade I've done has already paid for itself tenfold, and I've only had it for a month! I use Google Docs voice to text to do a lot of my content, and often I find that my speech pattern gets lost in translation, but with Grammarly the editing more comfortable and faster than ever before! 
My editing time has decreased exponentially!

What has Grammarly done for me? 
1. Increased content creation
2. Increased quality of content
3. Cut back editing time
4. Check plagiarism / Original content
5. Keeps me wanting to create more!!
6. Keeps my writing on track for the appropriate audience
Have an AWESOME DAY
Shaunna
You Won't be Disappointed!